Forward Leading
On January 15, 2019, Becky Tuttle was sworn in as city council member for District II, representing  over 60,000 community members in the northeast area of our great city. Becky assumed the role as  city council member, fulfilling a seat vacated by now Sedgwick County Commissioner Pete Meitzner.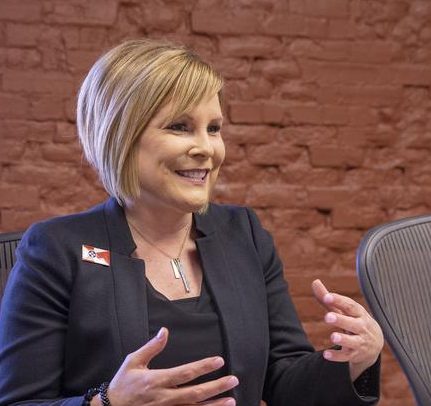 Becky is a proven leader. Becky has shown her commitment to Wichita through her tireless efforts to make our community a better place to live, learn, earn, play and pray. Just a few examples include:
City of Wichita District II Advisory Board – Member since 2015 and Chairperson in 2018
Tobacco Free Wichita – Community led initiative for Wichita to become smokefree
Bike Share ICT – Established a public/private partnership to completely fund a 200 bicycle fleet
Health & Wellness Coalition of Wichita – Chairperson helping to rally community engagement
Health Alliance – Chairperson implementing the 2017-19 Community Health Improvement Plan
Wichita Park Foundation, board member
Becky is a person of high integrity, a skilled listener and strategic thinker. We need leaders like Becky to continue on the city council and champion for a strong local economy, safe and thriving neighborhoods and quality of life issues across our city.
A Big Picture Focus
We must seek visionary and viable options for how we think Wichita should look in five, ten and twenty years from now. Developing a master plan is crucial for creating a vibrant city that families want to call "home" – a quality place to live, learn, earn, play and pray.
Economic Driver

Becky understands that a strong entrepreneurial ecosystem drives economic momentum.

Community Leader

Becky has put her commitment into action for our city.

City Council

Becky is ready to take her ideas and leadership to the next level.